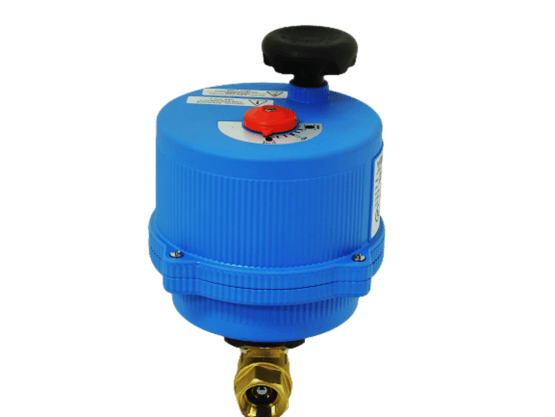 LAKOS Electric Fail-Safe Valve (EFS) is an excellent alternative to our standard Purge Valves as the EFS valve features a fail-safe option for when power is lost. If power is cut off during a purge cycle, the EFS valve uses its internal battery pack to close the valve – preventing an unexpected water loss scenario. The EFS Valve is available on all Industrial and HVAC series Separators and can be purchased with a new Separator or as a replacement for an existing valve.



Fits the following LAKOS Separators:
Replacement or Retrofit options available for the following Systems:
Please Contact Us for retrofit or replacement options.
SPECIFICATIONS:
Voltage: 12V DC, 24V DC, and 100-240V AC
Frequency: 50/60Hz
Power Draw: 30-48 VA
Current Draw: 0.3-0.2 A – 75% Duty Rated
Maximum Pressure Rating: 600 PSI @ 176°F (80°C)
Valve Open-Close Time: 8 seconds from 0 to 90 degrees.
Housing: V0 self-extinguish class techno-polymer, water-tight
Protection Level: NEMA 4/4X IP65 IP67
Certifications: CE UL
Cover Type: UL 50
Ambient Temperature Range: -4° F to 131° F
Auxiliary Contact Rating: 1A @ 30VDC/250VAC RESISTIVE
Protection Against Electrical Shock: Class I
Recommended Battery Check: Once per year, expected lifetime 10 years
Fail-Safe Batteries: Rechargeable Nickel-Metal-Hydride battery pack provides 400 charge/ discharge cycles. The batteries are automatically charged when the supply is connected