eTCX High Efficiency System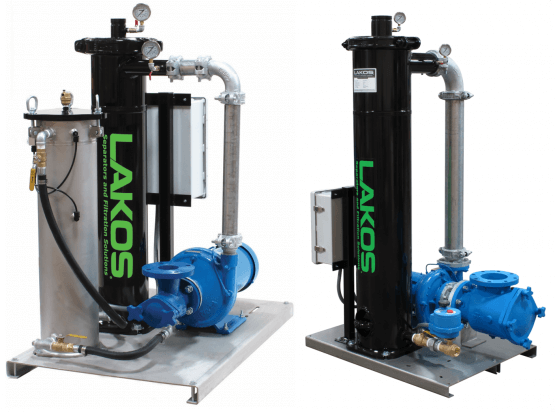 Basin Sweeping Configuration
Models
Download
Flow Rates1
Diffuser/Strainer
inlet4
Separator
outlet
System Weight
Pump HP/kW2
US GPM
m3/hr
lbs
kgs
eTCX-0050-SRV

eTCX-0050-EFS

eTCX-0050-SRV/EFS

DWG      PDF
50
11
2-1/2″
1-1/4″
568
264
2 HP/1.48 kW
eTCX-0080-SRV

eTCX-0080-EFS

eTCX-0080-SRV/EFS

DWG      PDF
80
18
2-1/2″
1-1/2″
568
257
3 HP/2.23 kW
eTCX-0110-SRV

eTCX-0110-EFS

eTCX-0110-SRV/EFS

Consult Factory
110
25
3″
2″
683
309
3 HP/2.23 kW
eTCX-0160-SRV

eTCX-0160-EFS

eTCX-0160-SRV/EFS

DWG      PDF
160
36
4″
2-1/2″
832
377
5 HP/3.72 kW
eTCX-0210-SRV

eTCX-0210-EFS

eTCX-0210-SRV/EFS

DWG      PDF
210
48
4″
3″
875
396
7.5 HP/5.59 kW
eTCX-0310-SRV

eTCX-0310-EFS

eTCX-0310-SRV/EFS

DWG      PDF
310
70
6″
4″
1109
502
7.5 HP/5.59 kW
eTCX-0410-SRV

eTCX-0410-EFS

DWG      PDF
410
93
6″
4″
1233
555
10 HP/7.45 kW
eTCX-0610-SRV

eTCX-0610-EFS

DWG      PDF
610
138
6″
4″
1859
845
20 HP/14.8 kW
eTCX-0910-SRV

eTCX-0910-EFS

Consult Factory
910
206
8″
6″
2493
1133
25 HP/18.7 kW
Side Stream and Closed Loop Configuration
Models
Download
Flow Rates1
Diffuser/Strainer
inlet4
Separator
outlet
System Weight
Pump HP/kW2
US GPM
m3/hr
lbs
kgs
eTCX-0050-SRV
DWG      PDF
65
5
2-1/2″
1-1/4″
558
267
2 HP/1.48 kW
eTCX-0080-SRV
DWG      PDF
95
22
2-1/2″
1-1/2″
568
257
3 HP/2.23 kW
eTCX-0110-SRV
Consult Factory
140
32
3″
2″
683
309
3 HP/2.23 kW
eTCX-0160-SRV
DWG      PDF
210
48
4″
2-1/2″
832
377
5 HP/3.72 kW
eTCX-0210-SRV
DWG      PDF
250
57
4″
3″
875
396
7.5 HP/5.59 kW
eTCX-0310-SRV
DWG      PDF
365
83
6″
4″
1109
502
7.5 HP/5.59 kW
eTCX-0410-SRV
DWG      PDF
500
114
6″
4″
1233
555
10 HP/7.45 kW
eTBX-0610-SRV
DWG      PDF
610
138
6″
4″
1644
747
10 HP/7.45 kW
eTBX-0810-SRV5
 Consult Factory
810

184 

8″
6″
2219
1007
15 HP/11.2 kW
NOTES: All eTCX models are available in PLUS system configurations for filtration down to .35 microns.
1 Higher flow rates are available. Contact LAKOS.
2 Models 0050 and 0080 use 3500 RPM.
3 Contact LAKOS for motor specific FLA.
4 Minimum suction pipe size is equivalent to the system's diffuser inlet. Pump NPSHR and piping to-and-from LAKOS Systems should be reviewed and sized accordingly. Consult LAKOS for design assistance if the length of the suction line is more than 25' or has several elbows or elevation changes.
5 eTBX-0810 units are 22 1/2 deg. low profile.
6 eTCX-0910 used to be model eTCX-0810 previously. Pump HP remains the same.
Dimensions
Models
Dim A
Dim B
Dim C
inches
mm
inches
mm
inches
mm
eTCX-0050-SRV
24″
610
39-3/4″
1010
38-15/16″
989
eTCX-0080-SRV
29-1/2″
749
45″
1143
45-1/4″
1149
eTCX-0110-SRV
29-1/2″
749
45″
1143
50-11/16″
1287
eTCX-0160-SRV
29-1/2″
749
45″
1143
59-1/2″
1511
eTCX-0210-SRV
29-1/2″
749
45″
1143
66-11/16″
1694
eTCX-0310-SRV
31-1/2″
800
45″
1143
76-5/8″
1946
eTCX-0410-SRV
31-1/2″
800
45″
1143
82″
2083
eTCX/eTBX-0610-SRV
36″
914
49-3/4″
1264
95-1/2″
2426
eTBX-0810-SRV
46-1/2″
1181
123-3/4″
3143
61-1/2″
1715
eTBX-0910-SRV
46-1/2″
1181
123-3/4″
3143
61-1/2″
1715
Dimensions are for spatial considerations only. Do not pre-plumb based on the above dimensions. Contact
factory for detailed dimensions.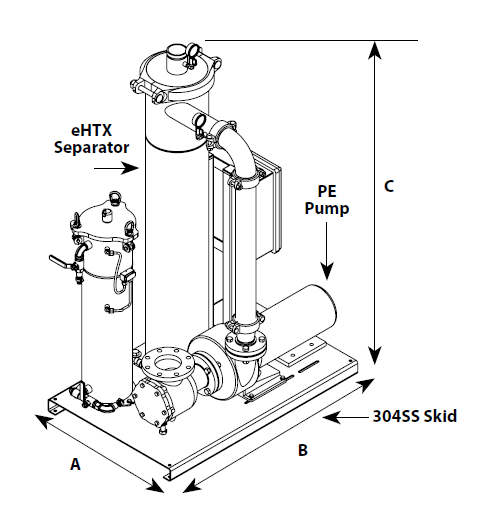 Inlet/Outlet Valve Kit Adders:
eTCV Valve Kit, 2 Tower Alternating Valve Kit
SRV Systems Adders:
SRI, DEC, Replacement Bags
Pump Repair Kit Adder
ASME
Internal 3M Scotchkote Coating
Stainless Steel Material
Frequently Asked Questions
Answer: As a rule of thumb, LAKOS uses a sizing factor of 1 GPM per square foot of basin area to determine the required size of a Tower Clean (TC) system. Using this factor, multiply the square footage of the cooling tower basin (L x W) by 1 GPM / sq. ft. This gives the basic flow rate for sizing the TC system. Tower Clean literature LS-710 can also be used as a reference for more information and equipment selections.
For industrial applications or very heavy solids loadings, consult LAKOS for recommended basin sweeping flow rates.
Answer: LAKOS factory-built purge controllers (ABV, ABV2, AKE, APP, AFS, EFS) do not have factory-set timings. The required purge frequency and durations vary depending on flow rates, solids concentrations, type of solids, etc. The controller time settings must be set at installation and LAKOS literature LS-608 can be used to help establish purge duration and frequency based on the application.
Answer: To determine the necessary purge frequency, purge often at first and calculate the proper rate based on the expected volume of separated solids. Purge duration should be long enough to evacuate the purge chamber AND clear the entire length of the purge piping of all solids. This is usually indicated by a change in the color of the purged liquid from dark to light. The time between purges should never exceed the time it takes to fill 1/3 of the collection chamber volume, based on the expected solids load and the separator's purge collection volume, as indicated in the separator's literature. Refer to LS-608 for additional information on calculating purge frequency and duration.
Answer: While there are many LAKOS Separators still in service after 15-25 years, there are many variables to the longevity of a LAKOS Separator. It can generally be expected to last as long as any other materials of similar construction in that system. Environment, fluid chemical make-up, flow, the material of construction, type of solids, and maintenance purging are all important factors to the life of a separator. It is important to consider all these factors when purchasing a separator. Providing LAKOS with details about your application will ensure your separator meets or exceeds the life expected through your purchase. Consult your LAKOS factory representative to obtain the life expectancy in your specific application.
Answer: Solids-removal efficiency is affected by several factors, including the difference in specific gravity between the solids and the carrying liquid, the viscosity of the liquid, the particle shape, and any purging enhancement techniques. In general, with a specific gravity ratio of 2.6 (e.g. quartz sand in freshwater), liquids of 31 SSU viscosity, and generally round particles, a single pass through a separator predictably removes 98% of particles 74 microns (0.0029 inches) and larger. Appreciable quantities of particles finer than 74 microns are also removed, as well as particles of lighter specific gravity. Higher specific gravities (like mill scale in water, where SG=5.7) result in much finer levels of filtration.
Recirculating systems (running the fluid through one or more separators continuously) can also result in appreciable removal of particles down as fine as 5 microns.
Contact LAKOS for assistance determining performance expectations on your specific application.
Answer: As a standard, most separators are available in mild carbon steel and 304L/316L-series stainless steels. Specially designed separators can also be constructed in most weldable metals, including, but not limited to: super duplex stainless steels, chrome-moly, titanium, Hastelloy, nickel alloys, and cupronickel. In special cases, separators can also be fabricated in plastic or fiberglass. For materials other than carbon and stainless steel, consult with LAKOS on the availability of your specific material requirements.
Answer: LAKOS separators and sand filters are both designed to remove solids from liquids, but have advantages over each other depending on the application.
A separator is designed to remove solids with a specific gravity at least 1.5 times that of the carrying liquid. Separators require very little, if any, maintenance because they have no moving parts. The pressure loss across a separator is predictable and steady and only varies with flow rate. Separators require minimum liquid loss for the purging of collected solids, and can also be equipped with an optional solids recovery vessel that can eliminate liquid loss. However, separators do not generally help with liquid clarity (turbidity) and are ineffective on organic material, such as algae.
A sand media filter is designed to remove finer solids (down to 5 microns in size) with low specific gravities. Sand filters are used when finer filtration and liquid clarity (turbidity reduction) are a requirement. Sand filters do require more operational maintenance (more moving parts) and use more liquid for backwashing of the sand bed to remove the collected solids. Pressure loss across a media filter varies, as solids are collected and enter a backwash cycle when they reach a predetermined pressure loss. However, sand media filters are very efficient at removing a wide variety of light, organic solids.
Answer: The maximum solids loading on LAKOS Separators is recommended to be less than 1% by volume. While 1% may seem low, keep in mind that 1% in a small 100 GPM system is 1 gallon of solids every minute, or 1,440 gallons (twenty-six 55-gallon drums) of solids per day. SMP Separators for residential use are not recommended to exceed 0.25% by volume. ILB Series Separators are not recommended to exceed 0.50% by volume. If your application exceeds these limitations, please consult your factory representative for proven alternatives.
Answer: Standard maximum temperature rating for operating most LAKOS Separators is 180°F. The exceptions are SMP Separators, which have a maximum temperature of 120°F. LAKOS can easily accommodate higher temperatures with custom separators.
Answer: Standard maximum pressure rating for most LAKOS Separators is 150 psi. The exceptions are the SMP Separators, which have a maximum pressure rating of 100 psi. Contact the factory for higher pressures; LAKOS can accommodate pressures up to 3000 psi through custom separators.
Answer: Yes, we can manufacture a separator with a Canadian Registration Number (CRN). We must know the Province or Territory the vessel is to be located so we can contact the registration controlling agency within that Province or Territory to determine the cost and lead time.