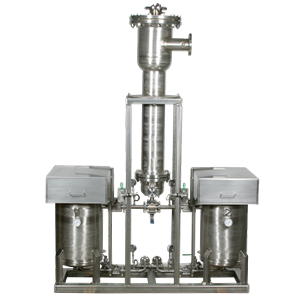 Complete Cooking Oil Filtration System
The FrySafe System offers a full flow, non-oxygenated, low maintenance, turnkey solution for cooking oil. The FrySafe removes crumbs and fines to extend oil life and sustain high product quality.
The LAKOS FrySafe includes a LAKOS CSX Separator, two collection vessels, and all the necessary valves and gauges for a complete cooking oil filtration solution.
Full flow filtration of the entire cooking oil reservoir
Operates in a pressurized, non-oxygenated environment
Longer operating cycles between downtime/maintenance
Flow Range: 50 – 6,125 US gpm (11 – 1,390 m³/hr)
Maximum Pressure: 100 psi (6.8 bar)