HTX-HTH Standard Efficiency Separator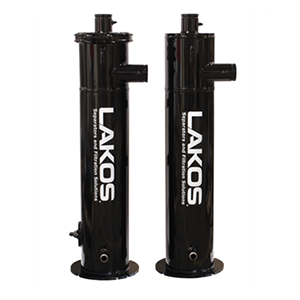 Specifications (HTX)
Models
Downloads
Flow Range
Inlet/Outlet
Grooved
Coupling**
Purge Size
Male NPT
Collection
Chamber Capacity
Weight
US GPM
m3/hr
gal.
liters
lbs.
kg
HTX-0016
DWG    PDF
16-30
4-7
1″
3/4″
0.2
0.8
45
20
HTX-0028
DWG    PDF
28-45
7-10
1-1/4″
3/4″
0.5
1.8
69
31
HTX-0038
DWG    PDF
38-65
9-15
1-1/2″
3/4″
0.7
2.8
92
42
HTX-0060
DWG    PDF
60-100
14-23
2″
3/4″
1.4
5.4
160
73
HTX-0085
DWG    PDF
85-145
19-33
2-1/2″
3/4″
1.4
5.4
202
92
HTX-0130
DWG    PDF
130-255
30-51
3″
3/4″
1.5
5.6
214
97
HTX-0200-L
DWG    PDF
200-325
45-74
4″
3/4″
1.0
3.8
408
185
HTX-0200-V
DWG    PDF
200-325
45-74
4″
3/4″
2.6
9.8
381
173
HTX-0285-L
DWG    PDF
285-525
65-120
4″
1-1/2″
2.1
7.9
476
216
HTX-0285-V
DWG    PDF
285-525
65-120
4″
1-1/2″
5.4
20.5
420
191
HTX-0450-L
DWG    PDF
450-825
102-187
6″
1-1/2″
2.8
10.6
634
288
HTX-0450-V
DWG    PDF
450-825
102-187
6″
1-1/2″
6.7
25.4
593
269
HTX-0500-L
DWG    PDF
500-1,100
114-250
6″
1-1/2″
2.8
10.6
642
291
HTX-0500-V
DWG    PDF
500-1,100
114-250
6″
1-1/2″
6.7
25.4
600
272
HTX-0810-L
DWG    PDF
810-1,670
184-379
8″
1-1/2″
6.2
23.5
760
345
HTX-0810-V
DWG    PDF
810-1,670
184-379
8″
1-1/2″
12.5
47.3
786
357
HTX-1275-L
DWG    PDF
1,275-3,100
290-704
10″
2″
11.5
43.5
1,064
483
HTX-1275-V
DWG    PDF
1,275-3,100
290-704
10″
2″
24.0
90.8
1,092
495
HTX-1950-L
DWG    PDF
1,950-4,350
443-988
12″
2″
15.0
56.8
1,351
613
HTX-1950-V
DWG    PDF
1,950-4,350
443-988
12″
2″
31.5
119.2
1,312
595
HTX-3500-L
DWG    PDF
3,500-6,800
795-1,545
16″
2″
50.6
191.5
4,360
1,978
HTX-3500-V
DWG    PDF
3,500-6,800
795-1,545
16″
2″
99.3
375.9
4,020
1,823
HTX-6700-L
DWG    PDF
6,700-12,750
1,522-2,895
20″
2″
81.0
306.6
7,901
3,584
HTX-6700-V
DWG    PDF
6,700-12,750
1,522-2,895
20″
2″
162.3
614.4
7,475
3,391
Specifications (HTH)
Models
Downloads
Flow Range
Inlet/Outlet
Grooved
Coupling**
Purge Size
Male NPT

 

Collection
Chamber Capacity
Weight
US GPM
m3/hr
gal.
liters
lbs.
kg
HTH-0285-L
DWG    PDF
285-525
65-120
4″
1-1/2″
2.1
7.9
445
202
HTH-0285-V
DWG    PDF
285-525
65-120
4″
1-1/2″
3.8
14.4
387
176
HTH-0450-L
DWG    PDF
450-825
100-190
6″
1-1/2″
2.8
10.6
591
268
HTH-0450-V
DWG    PDF
450-825
100-190
6″
1-1/2″
5.6
21.2
548
249
HTH-0500-L
DWG    PDF
500-1,100
115-250
6″
1-1/2″
2.8
10.6
598
271
HTH-0500-V
DWG    PDF
500-1,100
115-250
6″
1-1/2″
5.6
21.2
556
252
HTH-0810-L
DWG    PDF
810-1,670
185-380
8″
1-1/2″
6.2
23.5
674
306
HTH-0810-V
DWG    PDF
810-1,670
185-380
8″
1-1/2″
9.1
34.4
698
317
HTH-1275-L
DWG    PDF
1,275-3,100
290-705
10″
2″
11.5
43.5
894
406
HTH-1275-V
DWG    PDF
1,275-3,100
290-705
10″
2″
21.8
82.5
920
417
HTH-1950-L
DWG    PDF
1,950-4,350
440-990
12″
2″
15.0
56.8
1,095
497
HTH-1950-V
DWG    PDF
1,950-4,350
440-990
12″
2″
30.0
113.6
1,175
533
HTH-3500-L
DWG    PDF
3,500-6,800
795-1,545
16″
2″
50.6
191.5
2,949
1,338
HTH-3500-V
DWG    PDF
3,500-6,800
795-1,545
16″
2″
81.3
307.8
2,591
1,175
HTH-6700-L
DWG    PDF
6,700-12,750
1,522-2,895
20″
2″
81.0
306.6
6,023
2,732
HTH-6700-V
DWG    PDF
6,700-12,750
1,522-2,895
20″
2″
62.0
613.2
5,608
2,544
** Inlet/ Outlet may also be specified with ANSI flanges, DIN flanges, BSP threads or JIS threads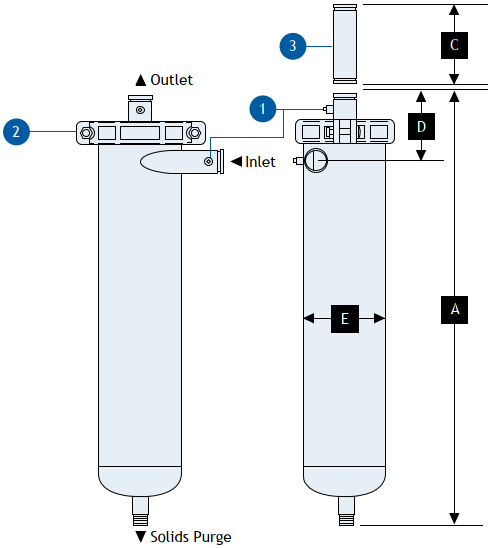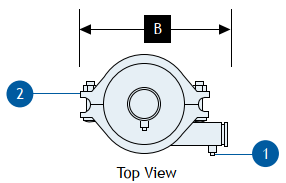 Dimensions Low Flow Rate (HTX)
 Models
Dim A
Dim B
Dim C
Dim D
Dim E
inches
mm
inches
mm
inches
mm
inches
mm
inches
mm
HTX-0016
33-3/16″
843
9-13/16″
249
7″
178
7-15/16″
202
4-1/2″
114
HTX-0028
35″
889
12-5/16″
313
7″
178
8-1/16″
205
5-9/16″
141
HTX-0038
37-9/16″
954
12-1/2″
318
8″
203
8-1/8″
206
6-5/8″
168
HTX-0060
46-13/16″
1,189
15-4/4″
400
11″
279
8-1/8″
206
8-5/8″
219
HTX-0085
54-3/8″
1,387
15-3/4″
400
15″
381
9-5/8″
244
8-5/8″
219
HTX-0130
57-3/4″
1,467
15-3/4″
400
16″
406
10-1/2″
267
8-5/8″
219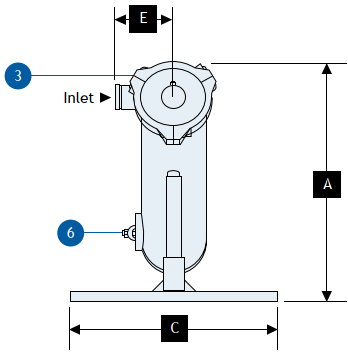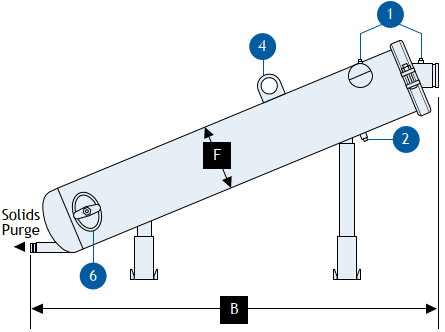 Dimensions (HTX-L)
Models
Dim A
Dim B
Dim C
Dim E
Dim F
inches
mm
inches
mm
inches
mm
inches
mm
inches
mm
HTX-0200-L
40-11/16″
1,033
64-3/4″
1,645
40″
1,016
11″
279
10-3/4″
273
HTX-0285-L
44″
1,118
70-1/16″
1,780
40″
1,016
11″
379
12-3/4″
324
HTX-0450-L
51-1/2″
1,308
85-1/6″
2,161
40″
1,016
12″
305
14″
356
HTX-0500-L
51-1/2″
1,308
85-1/6″
2,161
40″
1,016
12″
305
14″
356
HTX-0810-L
57-5/16″
1,456
92-7/8″
2,357
40″
1,016
14″
356
18″
457
HTX-1275-L
72-7/16″
1,840
118-13/16″
3,018
40″
1,016
18″
457
22″
559
HTX-1950-L
79-5/8″
2,022
130-3/4″
3,321
40″
1,016
18″
457
24″
610
HTX-3500-L
111-3/4″
2,838
189-1/2″
4,813
60″
1,524
26″
660
36″
914
HTX-3500-L
131-3/4″
3,346
226-9/16″
5,755
60″
1,524
30″
762
42″
1,067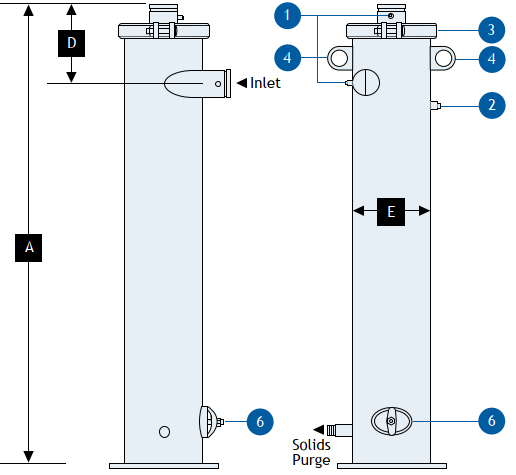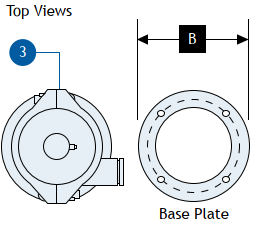 Dimensions (HTX-V)
 Models
Dim A
Dim B
Dim D
Dim E
inches
mm
inches
mm
inches
mm
inches
mm
HTX-0200-V
74-1/16″
1,881
16″
406
11-3/4″
298
10-3/4″
273
HTX-0285-V
66-9/16″
1,691
18″
457
14-3/16″
360
12-3/4″
324
HTX-0450-V
82-5/16″
2,091
20″
508
13-3/8″
340
14″
356
HTX-0500-V
82-5/16″
2,091
20″
508
13-3/8″
340
14″
356
HTX-0810-V
91″
2,311
26″
660
16-7/16″
418
18″
457
HTX-1275-V
117-3/16″
2,972
30″
762
18-1/2″
470
22″
559
HTX-1950-V
129-7/8″
3,299
32″
813
18-11/16″
475
24″
610
HTX-3500-V
184-1/16″
4,675
42″
1,067
39-1/8″
994
36″
762
HTX-6700-V
220-1/4″
5,594
52″
1,321
42″
1,067
42″
1,067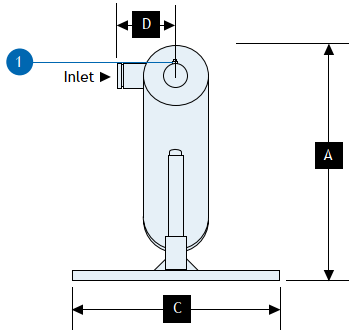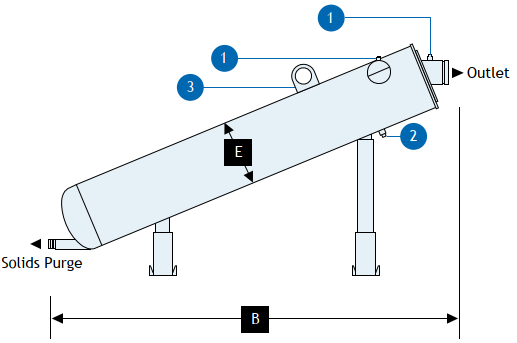 Dimensions (HTH-L)
Models
Dim A
Dim B
Dim C
Dim D
Dim E
inches
mm
inches
mm
inches
mm
inches 
 mm
inches 
 mm
HTH-0285-L
41-13/16″
1,062
70-3/16″
1,783
40″
1,016
11″
279
12-3/4″
324
HTH-0450-L
49-1/8″
1,248
85″
2,195
40″
1,016
12″
305
14″
356
HTH-0500-L
49-1/8″
1,248
85″
2,195
40″
1,016
12″
305
14″
356
HTH-0810-L
54-5/8″
1,387
92-13/16″
2,357
40″
1,016
18-7/8″
479
18″
457
HTH-1275-L
68-1/2″
1,740
118-13/16″
3,018
40″
1,016
18″
457
22″
559
HTH-1950-L
74-3/32″
1,882
130″
3,302
40″
1,016
18″
457
24″
610
HTH-3500-L
105-5/16″
2,675
189-7/16″
4,812
60″
1,524
26″
660
36″
914
HTH-6700-L
125″
3,175
225″
5,715
60″
1,524
30″
762
42″
1,067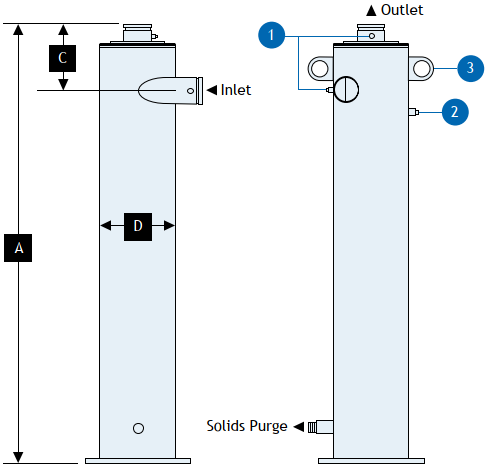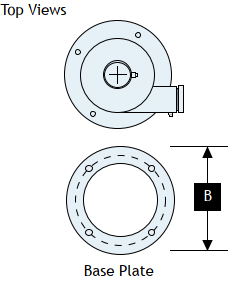 Dimensions (HTH-V)
Models
Dim A
Dim B
Dim C
Dim D
inches
mm
inches
mm
inches
mm
inches
mm
HTH-0285-V
66-9/16″
1,691
18″
457
14-3/16″
360
12-3/4″
324
HTH-0450-V
52-5/16″
2,091
20″
508
13-3/8″
317
14″
356
HTH-0500-V
82-5/16″
2,091
20″
508
13-3/8″
317
14″
356
HTH-0810-V
91″
2,311
26″
660
16-7/16″
418
18″
457
HTH-1275-V
117-3/16″
2,977
30″
762
18-1/2″
470
22″
559
HTH-1950-V
129-15/16″
3,300
32″
812
18-3/4″
476
24″
610
HTH-3500-V
180-15/16″
4,596
44″
1,118
37″
940
36″
914
HTH-6700-V
218-1/4″
5,444
48″
1,219
40-7/16″
1,027
42″
1,067
Purging Adders (Solids Recovery Options):
SRV/CRS, SRI/IPS, DEC, Replacement Bags
Purging Adders (Purge Options): 
Electric Ball Valve (ABV) or Electric Fail-Safe Ball Valves (EFS) 
Accessories and Adders: 
Pressure Gauge Kit (IKT), Grooved Coupling Spools, Grooved Couplings, Welded-On Flanges
ASME 
Internal 3M Scotchkote Coating
Stainless Steel Material
Download Brochure
LS-580 HVAC Solutions Brochure
Download Manual
LS-714 HTH-HTX Installation Guide
Download Sample Spec
Frequently Asked Questions
Answer: Flow rate is the most important factor in determining separator size because all LAKOS Separators operate within a prescribed flow range. Pipe size is not a factor in model selection so do not use your existing pipe size to determine the separator size. Required separator size is often, but not always, smaller than the existing piping, and appropriate hardware is used to match the inlet/outlet size with existing piping.
Answer: LAKOS factory-built purge controllers (ABV, ABV2, AKE, APP, AFS, EFS) do not have factory-set timings. The required purge frequency and durations vary depending on flow rates, solids concentrations, type of solids, etc. The controller time settings must be set at installation and LAKOS literature LS-608 can be used to help establish purge duration and frequency based on the application.
Answer: To determine the necessary purge frequency, purge often at first and calculate the proper rate based on the expected volume of separated solids. Purge duration should be long enough to evacuate the purge chamber AND clear the entire length of the purge piping of all solids. This is usually indicated by a change in the color of the purged liquid from dark to light. The time between purges should never exceed the time it takes to fill 1/3 of the collection chamber volume, based on the expected solids load and the separator's purge collection volume, as indicated in the separator's literature. Refer to LS-608 for additional information on calculating purge frequency and duration.
Answer: While there are many LAKOS Separators still in service after 15-25 years, there are many variables to the longevity of a LAKOS Separator. It can generally be expected to last as long as any other materials of similar construction in that system. Environment, fluid chemical make-up, flow, the material of construction, type of solids, and maintenance purging are all important factors to the life of a separator. It is important to consider all these factors when purchasing a separator. Providing LAKOS with details about your application will ensure your separator meets or exceeds the life expected through your purchase. Consult your LAKOS factory representative to obtain the life expectancy in your specific application.
Answer: Solids-removal efficiency is affected by several factors, including the difference in specific gravity between the solids and the carrying liquid, the viscosity of the liquid, the particle shape, and any purging enhancement techniques. In general, with a specific gravity ratio of 2.6 (e.g. quartz sand in freshwater), liquids of 31 SSU viscosity, and generally round particles, a single pass through a separator predictably removes 98% of particles 74 microns (0.0029 inches) and larger. Appreciable quantities of particles finer than 74 microns are also removed, as well as particles of lighter specific gravity. Higher specific gravities (like mill scale in water, where SG=5.7) result in much finer levels of filtration.
Recirculating systems (running the fluid through one or more separators continuously) can also result in appreciable removal of particles down as fine as 5 microns.
Contact LAKOS for assistance determining performance expectations on your specific application.
Answer: As a standard, most separators are available in mild carbon steel and 304L/316L-series stainless steels. Specially designed separators can also be constructed in most weldable metals, including, but not limited to: super duplex stainless steels, chrome-moly, titanium, Hastelloy, nickel alloys, and cupronickel. In special cases, separators can also be fabricated in plastic or fiberglass. For materials other than carbon and stainless steel, consult with LAKOS on the availability of your specific material requirements.
Answer: The maximum solids loading on LAKOS Separators is recommended to be less than 1% by volume. While 1% may seem low, keep in mind that 1% in a small 100 GPM system is 1 gallon of solids every minute, or 1,440 gallons (twenty-six 55-gallon drums) of solids per day. SMP Separators for residential use are not recommended to exceed 0.25% by volume. ILB Series Separators are not recommended to exceed 0.50% by volume. If your application exceeds these limitations, please consult your factory representative for proven alternatives.
Answer: The LAKOS Separator is capable of working with any liquid that has a viscosity less than 100 SSU. The solids to be separated must also have a specific gravity at least 1.5 greater than the fluid. The greater the specific gravity of the separable solids and the lower the viscosity of the liquid, the better the LAKOS Separator will work. A good rule of thumb: if the solids settle within 3-4 minutes in your liquid, they will likely be separable with a LAKOS Separator.
Answer: Standard maximum temperature rating for operating most LAKOS Separators is 180°F. The exceptions are SMP Separators, which have a maximum temperature of 120°F. LAKOS can easily accommodate higher temperatures with custom separators.
Answer: Standard maximum pressure rating for most LAKOS Separators is 150 psi. The exceptions are the SMP Separators, which have a maximum pressure rating of 100 psi. Contact the factory for higher pressures; LAKOS can accommodate pressures up to 3000 psi through custom separators.
Answer: Yes, we can manufacture a separator with a Canadian Registration Number (CRN). We must know the Province or Territory the vessel is to be located so we can contact the registration controlling agency within that Province or Territory to determine the cost and lead time.