CSX – Cooking Oil Separator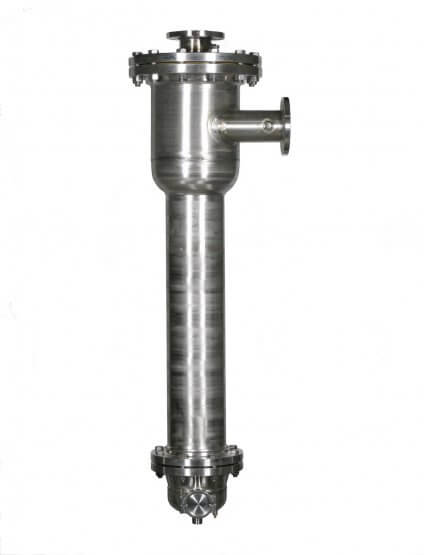 Specifications
Models

Downloads

Flow Range
(Cooking Oil Only)

Inlet/ Outlet Size
*ANSI Flange

Inside Oil
Capacity
Dry Weight
US GPM 
m3/hr
gal.
liters
lbs.
kg
CSX-0050
DWG    PDF
50-80
12-18
1-1/2″
2.7
10.2
148
67
CSX-0075
DWG    PDF
75-125
17-29
2″
6.0
22.7
226
103
CSX-0110
DWG    PDF
110-180
25-40
2-1/2″
7.7
29.2
245
111
CSX-0165
DWG    PDF
165-280
38-65
3″
8.0
30.3
274
222
CSX-0250
DWG    PDF
250-400
57-90
4″
16.7
63.2
490
226
CSX-0360
DWG    PDF
360-670
82-152
4″
21.5
81.4
498
226
CSX-0565
DWG    PDF
565-1030
130-235
6″
34.0
128.7
498
226
CSX-0815
DWG    PDF
815-1500
185-340
6″
54.0
204.4
801
363
CSX-1450
DWG    PDF
1450-2700
330-615
8″
107.0
405.0
816
370
CSX-2300
DWG    PDF
2300-4250
525-965
10″
146.0
552.6
1305
592
CSX-3300
DWG    PDF

3300-6125

750-1390

12″

217.0

820.0

2389

1084
*Connections: Inlet, outlet and purge are each standard ANSI, DIN, JIS flanges. DIN and JIS dimensions are slightly
different than those shown. Contact LAKOS for more information. Sanitary connections are also available. Purge may
also be specified as NPT male.
Note:
1. Material Construction: Available in carbon steel and 304L or 316L stainless steel. Electro-polishing of interior/exterior also available.
2. Optional legs can be provided
3. Standard Temperature Rating: 400°F (204°C)
4. Standard Pressure Rating: 100 psi (6.8 bar)
5. Max Particle Size: 3/8″ (9.5 mm)
6. Certain caustic washings may degrade the integrity of carbon steel tanks, pumps, and centrifugal separators. We recommend only stainless steel products in these applications.
Dimensions (HV)
Models
Dim A
Dim B
Dim C
Dim D
Dim E
inches
mm
inches
mm
inches
mm
inches
mm
inches
mm
CSX-0050-HV
34-13/16″
884
11″
279
8-1/2″
216
8″
203
4″
102
CSX-0075-HV
47-1/4″
1200
13-1/2″
343
9-1/2″
241
10-3/4″
273
5-9/16″
141
CSX-0110-HV
51″
1295
13-1/2″
343
9-1/2″
241
9″
229
6-5/8″
168
CSX-0165-HV
54-1/16″
1373
13-1/2″
343
10″
254
10-3/4″
273
6-5/8″
168
CSX-0250-HV
66-1/2″
1689
16″
406
11-1/2″
292
11-1/2″
292
8-5/8″
21
CSX-0360-HV
75-3/8″
1915
19″
483
13″
330
14-3/4″
375
8-5/8″
219
CSX-0565-HV
94-3/8″
2397
21″
533
14-1/2″
368
14-5/16″
364
10-3/4″
273
CSX-0815-HV
105-5/8″
2683
23-1/2″
597
15-1/2″
394
16-11/16″
424
12-3/4″
324
CSX-1450-HV
125-5/8″
3191
27-1/2″
699
17-1/2″
445
20-5/16″
516
16″
406
CSX-2300-HV
137-5/16″
3488
32″
813
18-1/2″
470
25-1/8″
638
18″
457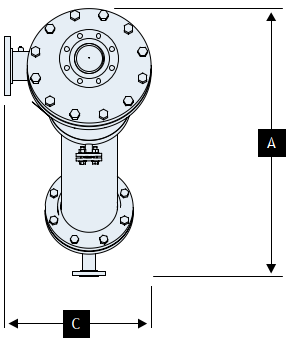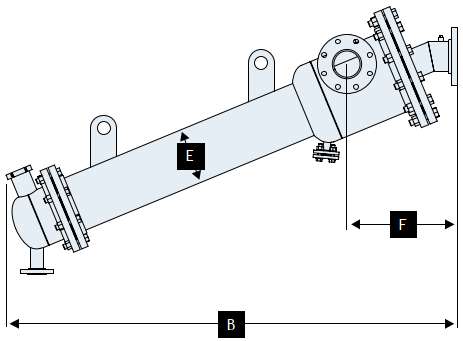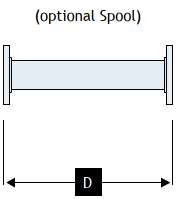 Dimensions (HL)
Models
Dim A
Dim B
Dim C
Dim D
Dim E
Dim F
inches
mm
inches
mm
inches
mm
inches
mm
inches
mm
inches
mm
CSX-0365-HL
41″
1041
69-1/4″
1759
22-1/2″
572

26″

660

8-5/8″

219

 17″

 432

CSX-0565-HL
50″
1270
86-1/2″
2197
25″
635

28″

711

10-3/4″

273

 16-9/16″

 421

CSX-0815-HL
56-5/16″
1430
97-5/16″
2472
27-1/4″
692
28″


711

12-3/4″

324

 19-1/8″

 486

CSX-1450-HL
66-3/4″
1695
119-1/16″
3024
31-1/4″
794

36″

914

16″

406

 26-3/8″

 670

CSX-2300-HL
74-1/8″
1883
130-1/4″
3308
34-1/2″
876

38″

965

18″

457

 31-3/4″

 806
ASME
Internal 3M Scotchkote Coating
Stainless Steel Material
Download Brochure
LS-636 Industrial Process Fluids Brochure
Download Manual
Frequently Asked Questions
Answer: Flow rate is the most important factor in determining separator size because all LAKOS Separators operate within a prescribed flow range. Pipe size is not a factor in model selection so do not use your existing pipe size to determine the separator size. Required separator size is often, but not always, smaller than the existing piping, and appropriate hardware is used to match the inlet/outlet size with existing piping.
Answer: LAKOS factory-built purge controllers (ABV, ABV2, AKE, APP, AFS, EFS) do not have factory-set timings. The required purge frequency and durations vary depending on flow rates, solids concentrations, type of solids, etc. The controller time settings must be set at installation and LAKOS literature LS-608 can be used to help establish purge duration and frequency based on the application.
Answer: To determine the necessary purge frequency, purge often at first and calculate the proper rate based on the expected volume of separated solids. Purge duration should be long enough to evacuate the purge chamber AND clear the entire length of the purge piping of all solids. This is usually indicated by a change in the color of the purged liquid from dark to light. The time between purges should never exceed the time it takes to fill 1/3 of the collection chamber volume, based on the expected solids load and the separator's purge collection volume, as indicated in the separator's literature. Refer to LS-608 for additional information on calculating purge frequency and duration.
Answer: While there are many LAKOS Separators still in service after 15-25 years, there are many variables to the longevity of a LAKOS Separator. It can generally be expected to last as long as any other materials of similar construction in that system. Environment, fluid chemical make-up, flow, the material of construction, type of solids, and maintenance purging are all important factors to the life of a separator. It is important to consider all these factors when purchasing a separator. Providing LAKOS with details about your application will ensure your separator meets or exceeds the life expected through your purchase. Consult your LAKOS factory representative to obtain the life expectancy in your specific application.
Answer: As a standard, most separators are available in mild carbon steel and 304L/316L-series stainless steels. Specially designed separators can also be constructed in most weldable metals, including, but not limited to: super duplex stainless steels, chrome-moly, titanium, Hastelloy, nickel alloys, and cupronickel. In special cases, separators can also be fabricated in plastic or fiberglass. For materials other than carbon and stainless steel, consult with LAKOS on the availability of your specific material requirements.
Answer: The maximum solids loading on LAKOS Separators is recommended to be less than 1% by volume. While 1% may seem low, keep in mind that 1% in a small 100 GPM system is 1 gallon of solids every minute, or 1,440 gallons (twenty-six 55-gallon drums) of solids per day. SMP Separators for residential use are not recommended to exceed 0.25% by volume. ILB Series Separators are not recommended to exceed 0.50% by volume. If your application exceeds these limitations, please consult your factory representative for proven alternatives.
Answer: The LAKOS Separator is capable of working with any liquid that has a viscosity less than 100 SSU. The solids to be separated must also have a specific gravity at least 1.5 greater than the fluid. The greater the specific gravity of the separable solids and the lower the viscosity of the liquid, the better the LAKOS Separator will work. A good rule of thumb: if the solids settle within 3-4 minutes in your liquid, they will likely be separable with a LAKOS Separator.
Answer: Standard maximum temperature rating for operating most LAKOS Separators is 180°F.  LAKOS can easily accommodate higher temperatures with custom separators.
Answer: Standard maximum pressure rating for most LAKOS Separators is 150 psi. The exceptions are the SMP Separators, which have a maximum pressure rating of 100 psi. Contact the factory for higher pressures; LAKOS can accommodate pressures up to 3000 psi through custom separators.