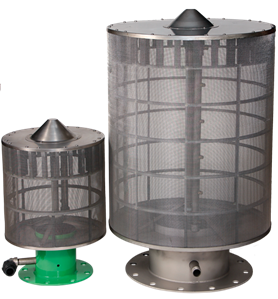 LAKOS Self-Cleaning Pump Intake Screens protect pumps and other water system components from algae, leaves, moss, sticks, and other troublesome organics and large debris.
Designed for use in open source surface water applications such as lakes, rivers, ponds, reservoirs, canals, and irrigation ditches. The Self-Cleaning Screen provides a continuous defense against impeller clogging, lost suction, and pump wear.
Better than stationary screens which waste time and energy due to repeated instances of clogging. Save energy, end routine maintenance, and protect the environment with the LAKOS PC Self-Cleaning Pump Intake Screens.
*Previously known as the "Plum Creek Intake Screen"
Flow Range: 50 – 2,400 US GPM (11 – 545 m³/hr)
Mesh Size Options: 9, 10, 18, and 30