CTS – Carbon Sand Media Filter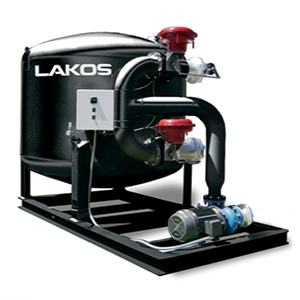 *Product color may vary depending on size
Specifications
CTS Filter
Models

Pump
HP

Pump
Inlet
Surface
Area (sq. ft.)
Flow Rate @ 20
GPM/ sq. ft.
Media Loading (cu. ft.)

Weight (lbs.)
MediaGem 475
MediaGem 55
Filter
Media
Shipping
Operating
CTS-54-318
7.5
4 FLG
15.9
318

18.00

34.00
2,339
5,434
7,773
12,215
CTS-60-392
7.5
5 FLG
19.6
392

23.00

42.00
2,716
6,758
9,474
14,993
CTS-66-474
10
5 FLG
23.8
474

29.00

51.00
2,962
8,397
11,359
18,209
CTS-72-566
10
5 FLG
28.3
566

37.00

64.00
3,362
10,374
13,736
22,444
CTS-78-664
15
5 FLG
33.2
664

47.00

75.00
3,752
12,261
16,013
26,855
CTS-84-770
15
6 FLG
38.5
770

56.00

87.00
4,216
14,783
18,999
31,296
CTS-90-884
15
6 FLG
44.2
884

68.00

100.00
4,345
17,346
21,691
36,088
CTS-96-1006
20
6 FLG
50.2
1006

81.00

136.00
6,034
22,430
28,464
42,654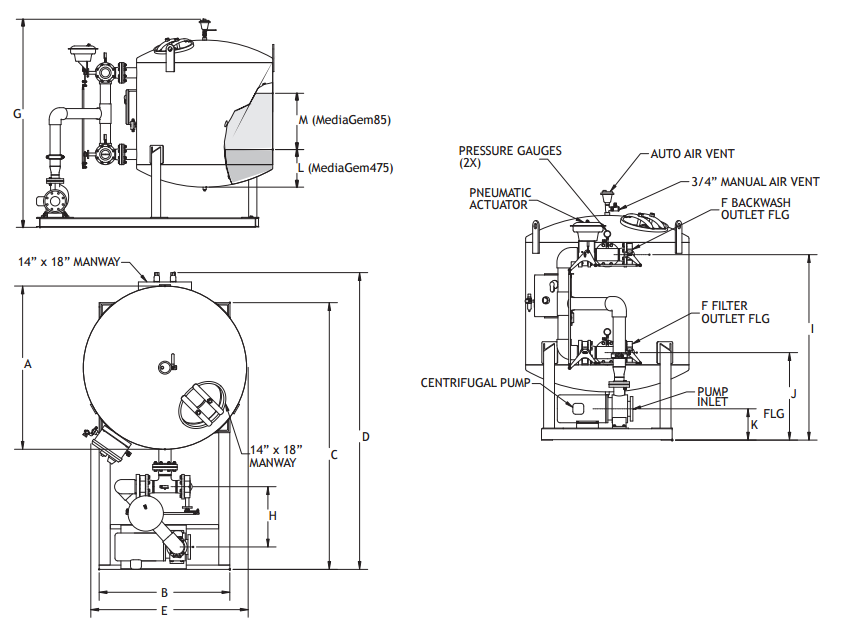 Dimensions for 54″ and Larger Tanks (Standard)
CTS Filter
Model
Dim A

Dim B
Dim C
Dim D
Dim E
Dim F
Dim G
Dim H

Dim I
Dim J
Dim K
Dim L

Dim M
inches
inches
inches
inches
inches
inches
inches
inches
inches
inches
inches
inches
inches
CTS-54
54.0
43.50
93.0
102.69
61.19
4.0
91.0
19.69
68.19
32.19
11.50
17.06
25.66
CTS-60
60.0
48.0
98.0
108.88
62.0
4.0
91.75>
19.69
68.19
32.19
11.50
>17.06
25.71
CTS-66
66.0
52.0
103.0
114.88
66.19
4.0
93.50
19.81
68.19
32.19
11.50
17.06
25.71
CTS-72
72.0
56.38
106.0
118.75
72.0
6.0
96.50
15.38
69.19
33.19
12.81
20.32
27.13
CTS-78
78.0
60.50
113.0
126.63
78.0
6.0
97.25
17.25
69.19
33.19
12.81
<20.32
27.10
CTS-84
84.0
66.50
118.18
131.81
84.0
6.0
103.88
18.94
75.19
39.19
14.19
20.32
27.11
CTS-90
90.0
71.0
126.18
140.69
90.0
6.0
105.69
20.69
76.19
40.19
14.19
20.32
27.14
CTS-96
96.0
77.50
142.50
156.75
96.0
8.0
115.69
25.56
84.38
43.38
16.38
22.72
32.50
Dimensions for 54″ and Larger Tanks (Metric)
CTS Filter
Model
Dim A

Dim B
Dim C
Dim D
Dim E
Dim F
Dim G
Dim H

Dim I
Dim J
Dim K
Dim L

Dim M
mm
mm
mm
mm
mm
mm
mm
mm
mm
mm
mm
mm
mm
CTS-54
1372
1105
2362
2608
1554
102
2311
500
1732
818
292
433
652
CTS-60
1524
1219
2489
2766
1575
102
2330
500
1732
818
292
433
653
CTS-66
1676
1321
2616
2918
1681
102
2375
503
1732
818
292
433
653
CTS-72
1829
1432
2692
3016
1829
152
2451
391
1757
843
325
516
689
CTS-78
1981
1537
2870
3216
1981
152
2470
438
1757
843
325
516
688
CTS-84
2134
1689
3002
3348
2134
152
2639
481
1910
995
360
516
688
CTS-90
2286
1803
3205
3574
2286
152
2685
526
1935
1021
360
516
689
CTS-96
2438
1969
3620
3981
2438
203
2939
649
2143
1102
416
577
826
ASME
Internal 3M Scotchkote Coating
Stainless Steel Material
Download Brochure
LS-580 HVAC Solutions Brochure
Download Manual
LS-722 CTS Installation Manual
Download Sample Spec
Frequently Asked Questions
Answer: Media filtration sand requirements are based on the filter's downstream equipment needs. In the case of micro-irrigation system protection, the minimum orifice diameter of the devices (emitters, drip tape, etc.) will generally dictate the filtration level required. Once this orifice size has been determined, the following guidelines will be helpful:
Sand media used Filtration levels
#20 Filter Sand 200 – 250 mesh (74-63 microns)
#16 Filter Sand 150 – 200 mesh (105-74 microns)
#12 Filter Sand 120 – 150 mesh (125-105 microns)
Using media sand finer than required will cause slightly higher system pressure losses, and more frequent backwashing, so only use what is required to protect your downstream equipment.
Answer: As a rule of thumb, LAKOS uses a sizing factor of 1 GPM per square foot of basin area to determine the required size of a Tower Clean (TC) system. Using this factor, multiply the square footage of the cooling tower basin (L x W) by 1 GPM / sq. ft. This gives the basic flow rate for sizing the TC system. Tower Clean literature LS-710 can also be used as a reference for more information and equipment selections.
For industrial applications or very heavy solids loadings, consult LAKOS for recommended basin sweeping flow rates.
Answer: LAKOS separators and sand filters are both designed to remove solids from liquids, but have advantages over each other depending on the application.
A separator is designed to remove solids with a specific gravity at least 1.5 times that of the carrying liquid. Separators require very little, if any, maintenance because they have no moving parts. The pressure loss across a separator is predictable and steady and only varies with flow rate. Separators require minimum liquid loss for the purging of collected solids, and can also be equipped with an optional solids recovery vessel that can eliminate liquid loss. However, separators do not generally help with liquid clarity (turbidity) and are ineffective on organic material, such as algae.
A sand media filter is designed to remove finer solids (down to 5 microns in size) with lower specific gravities. Sand filters are used when finer filtration and liquid clarity (turbidity reduction) are a requirement. Sand filters do require more operational maintenance (more moving parts) and use more liquid for backwashing of the sand bed to remove the collected solids. Pressure loss across a media filter varies, as solids are collected and enter a backwash cycle when they reach a predetermined pressure loss. However, sand media filters are very efficient at removing a wide variety of light, organic solids.
Answer: It is recommended that backwashing should take place at an interval when it is anticipated the filter system will have a 7 psi pressure drop. This 7 psi differential is in addition to the normal operating pressure drop when the filter is clean. If the filter media does not achieve this differential over 24 hours, it is recommended that the filter be backwashed once a day as a minimum.