STS – Stainless Sand Media Filter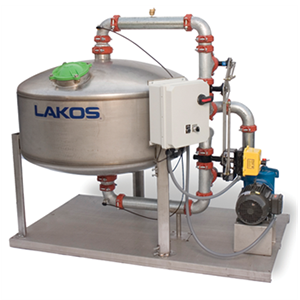 *Actual product may vary visually
Specifications
Models
Flow Range*

Filtration
Surface Area
Inlet/ Outlet
FPT Grooved
Pump
HP
Gravel
Requirements

Sand
Requirements

Dry Weight with
Sand and Gravel**

Full Load
Amps at
460v

US GPM
m3/hr
ft²
m2
Inlet
Outlet
lbs.
kg
lbs.
kg
lbs.
kg
STS-15-025
18-25
3-6
1.2
0.1

1-1/2″

2″
1/2
40
18
150
68
664
301
1.1
STS-18-045
24-45
4-10
1.8
0.2

1-1/2″

2″
1
80
36
200
91
762
346
2.1
STS-24-075
40-75
9-17
3.1
0.3

1-1/2″

2″
1-1/2
120
54
400
181
1102
500
3
STS-30-110
73-110
17-25
4.9
0.5

2″

2″
  2
160
73
500
227
1339
607
3.4
STS-36-165
106-165
24-37
7.1
0.7

3″

3″
  3
240
109
800
363
1884
854
4.8
STS-48-310
160-310
36-70
12.6
1.2

3″

3″
  5
560
254
1300
590
2914
1322
7.6
* Flow range is based on the guideline of 15-25 US GPM/ft.2. Models also available at higher flow rates.
** Include media sand
All single-tank systems may be specified either automatic or manual backwash control and choice of system or city water for backwash supply.
Standard Power requirement of 460 volts, 3 phase; specify another voltage is required.
Filtration media is 5 micron as standard.  Consult factory for optional filtration down to 0.5 microns.
All STS system pumps are rated 50 feet TDH.
Drawings
Models

460v

230v
208v
City
Source
City
Source
City
Source
STS-15-025
PDF
PDF
Consult
Factory
Consult
Factory
Consult
Factory
PDF
STS-18-045
PDF
PDF
Consult
Factory
Consult
Factory
PDF
PDF
STS-24-075
PDF
PDF
Consult
Factory
Consult
Factory
Consult
Factory
PDF
STS-30-110
PDF
PDF
Consult
Factory
Consult
Factory
PDF
PDF
STS-36-165
PDF
PDF
Consult
Factory
Consult
Factory
Consult
Factory
PDF
STS-48-310
PDF
PDF
Consult
Factory
Consult
Factory
Consult
Factory
Consult
Factory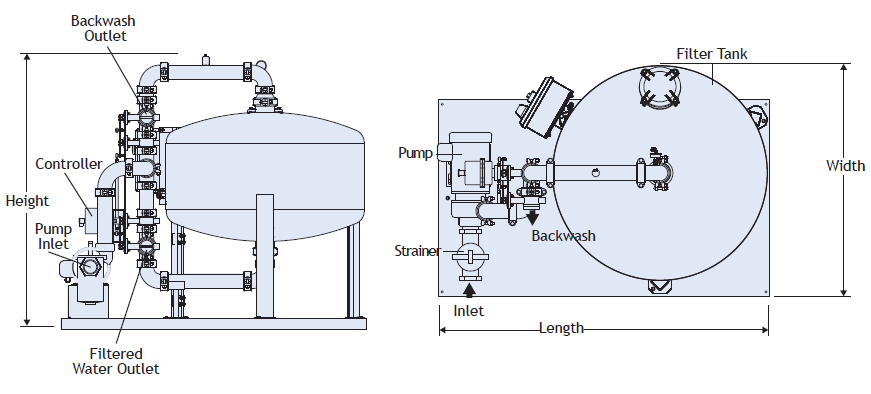 Dimensions
Models*

Length

Width
Height
inches
mm
inches
mm
inches
mm
STS-15-025
52″
1321
31-1/2″
800

53-15/16″

1369
STS-18-045
52″
1321
32-7/8″
834

51-7/16″

1306
STS-24-075
59-1/2″
1511
36-13/16″
935

54-5/16″

1379
STS-30-110
59-1/2″
1511
38″
966

61-3/16″

1554
STS-36-165
63-1/2″
1613
42-3/8″
1076

65-7/8″

1673
STS-48-310
74-1/2″
1892
51-7/8″
1318

70-3/8″

1788
* These tanks can be configured for Basin Sweeping.
Note: All drawings shown indicate "system water backwash" configurations.  Consult factory for "city water backwash" option.  Dimensions above apply to both systems.

ASME
Internal 3M Scotchkote Coating
Stainless Steel Material
Download Brochure 
LS-580 HVAC Solutions Brochure
Download Manual
Download Sample Spec
LS-040 STS Sample Specs CSI
Contact Factory for Drawing Documents
Frequently Asked Questions
Answer: Media filtration sand requirements are based on the filter's downstream equipment needs. In the case of micro-irrigation system protection, the minimum orifice diameter of the devices (emitters, drip tape, etc.) will generally dictate the filtration level required. Once this orifice size has been determined, the following guidelines will be helpful:
Sand media used Filtration levels
#20 Filter Sand 200 – 250 mesh (74-63 microns)
#16 Filter Sand 150 – 200 mesh (105-74 microns)
#12 Filter Sand 120 – 150 mesh (125-105 microns)
Using media sand finer than required will cause slightly higher system pressure losses, and more frequent backwashing, so only use what is required to protect your downstream equipment.
Answer: As a rule of thumb, LAKOS uses a sizing factor of 1 GPM per square foot of basin area to determine the required size of a Tower Clean (TC) system. Using this factor, multiply the square footage of the cooling tower basin (L x W) by 1 GPM / sq. ft. This gives the basic flow rate for sizing the TC system. Tower Clean literature LS-710 can also be used as a reference for more information and equipment selections.
For industrial applications or very heavy solids loadings, consult LAKOS for recommended basin sweeping flow rates.
Answer: LAKOS separators and sand filters are both designed to remove solids from liquids, but have advantages over each other depending on the application.
A separator is designed to remove solids with a specific gravity at least 1.5 times that of the carrying liquid. Separators require very little, if any, maintenance because they have no moving parts. The pressure loss across a separator is predictable and steady and only varies with flow rate. Separators require minimum liquid loss for the purging of collected solids, and can also be equipped with an optional solids recovery vessel that can eliminate liquid loss. However, separators do not generally help with liquid clarity (turbidity) and are ineffective on organic material, such as algae.
A sand media filter is designed to remove finer solids (down to 5 microns in size) with low specific gravities. Sand filters are used when finer filtration and liquid clarity (turbidity reduction) are a requirement. Sand filters do require more operational maintenance (more moving parts) and use more liquid for backwashing of the sand bed to remove the collected solids. Pressure loss across a media filter varies, as solids are collected and enter a backwash cycle when they reach a predetermined pressure loss. However, sand media filters are very efficient at removing a wide variety of light, organic solids.
Answer: It is recommended that backwashing should take place at an interval when it is anticipated the filter system will have a 7 psi pressure drop. This 7 psi differential is in addition to the normal operating pressure drop when the filter is clean. If the filter media does not achieve this differential over 24 hours, it is recommended that the filter be backwashed once a day as a minimum.