LS-849 Municipal Waterworks Brochure
Filtration Solutions for Municipal Waterworks Systems
Capable of working with engineering firms, private water companies and public agencies alike, LAKOS has the expertise for both simple and challenging waterworks applications. LAKOS municipal water filter products meet the needs of a demanding industry with NSF 61 Annex G certification, third party performance verification, and ASME Code options. Our Public Works Certified (PWC) centrifugal separator is a special design to meet the unique requirements of municipal water systems.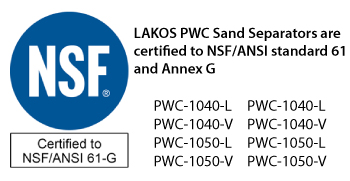 LAKOS municipal products solve filtration problems throughout waterworks systems:
LAKOS Sand Separators remove troublesome sand from pump discharge to protect water meters, water treatment systems and downstream processes from particle clogging & abrasive wear.
Open water intake filtration to stop river and canal sand, silt, and debris from entering the water system
LAKOS pump protection sand separators install onto deep well turbine and submersible pumps to protect pump impellers from excessive wear and maintain higher pump efficiencies for overall energy savings.
Drinking water sand removal
Clarifiers (grit removal), water meter protection, water treatment (pre-filtration), fire protection systems, vehicle & train wash operations, and more!