PROII, SST and SST125 – Media Filters (Discontinued)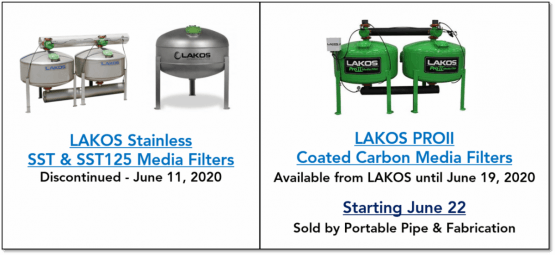 For over 40 years LAKOS media filters have offered growers premium filtration with an industry leading design. LAKOS appreciates the loyalty we have received over the years from our Dealers and their customers.
Going Forward:
LAKOS has transitioned the PROII Coated Carbon Steel media tank product line and inventory to Portable Pipe & Fabrication, Inc.
Due to the current environment, particularly challenges around the global supply chain, LAKOS is discontinuing the Stainless SST and SST125 media tanks, effective immediately
This has no impact on the balance of our industry leading filtration product lines.
FREQUENTLY ASKED QUESTIONS
Who are the contacts at Portable Pipe & Fabrication, Inc?
Who is Portable Pipe & Fabrication? Founded in 2008 and located in Northern California, Portable Pipe & Fabrication is an irrigation equipment buyer/seller specializing in aluminum, Certa Lok, HDPE, pumps and filters, pivots and linear irrigation systems.
Can I still place my PROII media Purchase Order With LAKOS? Until June 19, 2020. Starting June 22, 2020 you will need to send your PROII media Purchase Orders to Portable Pipe & Fabrication, Inc. They can be reached at 1-209-351-7692 or email: mabarca@portablepipes.com. Any Purchase Orders sent to LAKOS on or after June 22, 2020 will be forwarded to Portable Pipe & Fabrication Inc. for order processing and fulfillment.
Where can I buy new Stainless Steel (SST or SST125) Tanks? LAKOS is no longer offering Stainless Steel Media Tanks for Irrigation. For warranty related questions, contact LAKOS.
What if I want to order LAKOS Separators and PROII media products? You will need to issue two separate purchase orders. One to LAKOS for your Separator purchase, and a second to Portable Pipe & Fabrication, Inc. for your PROII media purchase.
Will I need to open an account with Portable Pipe & Fabrication, Inc? Yes, you will need to open a customer account with Portable Pipe and Fabrication. They are expecting your call/email and will be more than happy to help you.
Will pricing change? Portable Pipe & Fabrication will honor current LAKOS Dealer Net Pricing on PROII media tanks and accessories.