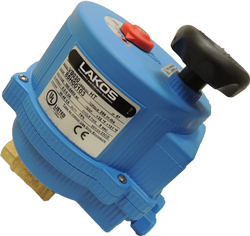 The ABV2 purges solids automatically, eliminating manual purging. It also features an electronic circuit that adjusts motor speed to keep cycle time constant, maintaining consistent purge durations.  Typical use cases are in HVAC or commercial applications. For residential applications, refer to our Accupurge valve, for Industrial Applications refer to AutoPurge Ball Valve.
The ABV2 is also known as VB030 actuator.

Fits the following LAKOS Separators:
Replacements or Retrofit options available the following Systems:
Please Contact Us for retrofit or replacement options.
SPECIFICATIONS:
Voltage: 120-240V AC
Frequency: 50/60Hz
Power Draw: 30-48 VA
Current Draw: 0.3-0.2 A 75% Duty Rated
Maximum Pressure Rating: 600 PSI @ 176°F (80°C)
Valve Open-Close Time: 8 seconds from 0 to 90 degrees.
Housing: V0 self-extinguish class techno-polymer, water-tight
Protection Level: NEMA 4/4X IP65 IP67 Certifications: CE UL
Cover Type: UL 50
Ambient Temperature Range: -4 F to 131 F
Auxiliary Contact Rating: 1A @ 30VDC/250VAC RESISTIVE
Protection Against Electrical Shock: Class I