SST125 Stainless Sand Media Filters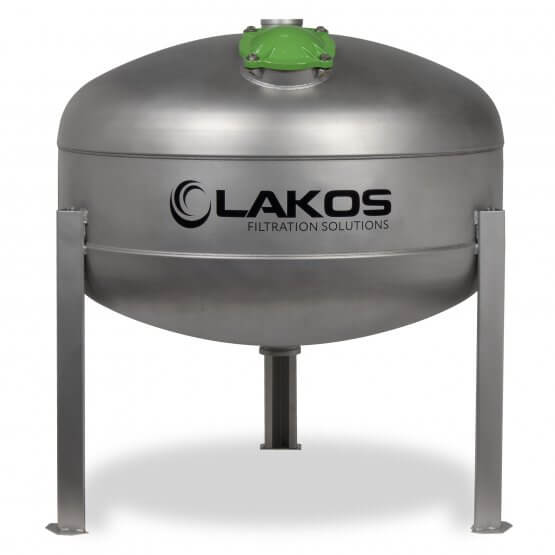 All products manufactured and marketed by this corporation are warranted to be free of defects in material or workmanship for 12 months from date of installation; if installed 6 months or more after the ship date, the warranty shall be a maximum of 18 months from ship date. Underdrain has an extended warranty of 15 years.
If a fault develops, notify us, giving a complete description of the alleged malfunction. Include the model number(s), date of delivery and operating conditions of subject product(s). We will subsequently review this information and, at our option, supply you with either servicing data or shipping instruction and returned materials authorization. Upon prepaid receipt of subject product(s) at the instructed destination, we will then either repair or replace such product(s), at our option, and if determined to be a warranted defect, we will perform such necessary product repairs or replace such product(s) at our expense.
This limited warranty does not cover any products, damages or injuries resulting from misuse, neglect, normal expected wear, chemically-caused corrosion, improper installation or operation contrary to factory recommendation. Nor does it cover equipment that has been modified, tampered with or altered without authorization.
No other extended liabilities are stated or implied and this warranty in no event covers incidental or consequential damages, injuries or costs resulting from any such defective product(s).
DuroBlack PE Manifolds are optional on all 18″, 24″ and 48″ diameter stainless steel tanks. Reference literature.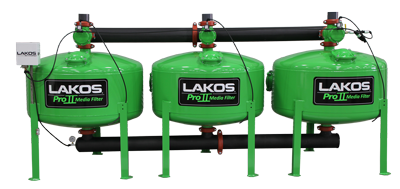 Frequently Asked Questions
Answer: Media filtration sand requirements are based on the filter's downstream equipment needs. In the case of micro-irrigation system protection, the minimum orifice diameter of the devices (emitters, drip tape, etc.) will generally dictate the filtration level required. Once this orifice size has been determined, the following guidelines will be helpful:
Sand media used Filtration levels
#20 Filter Sand 200 – 250 mesh (74-63 microns)
#16 Filter Sand 150 – 200 mesh (105-74 microns)
#12 Filter Sand 120 – 150 mesh (125-105 microns)
Using media sand finer than required will cause slightly higher system pressure losses, and more frequent backwashing, so only use what is required to protect your downstream equipment.
Answer: LAKOS separators and sand filters are both designed to remove solids from liquids, but have advantages over each other depending on the application.
A separator is designed to remove solids with a specific gravity at least 1.5 times that of the carrying liquid. Separators require very little, if any, maintenance because they have no moving parts. The pressure loss across a separator is predictable and steady and only varies with flow rate. Separators require minimum liquid loss for the purging of collected solids, and can also be equipped with an optional solids recovery vessel that can eliminate liquid loss. However, separators do not generally help with liquid clarity (turbidity) and are ineffective on organic material, such as algae.
A sand media filter is designed to remove finer solids (down to 5 microns in size) with low specific gravities. Sand filters are used when finer filtration and liquid clarity (turbidity reduction) are a requirement. Sand filters do require more operational maintenance (more moving parts) and use more liquid for backwashing of the sand bed to remove the collected solids. Pressure loss across a media filter varies, as solids are collected and enter a backwash cycle when they reach a predetermined pressure loss. However, sand media filters are very efficient at removing a wide variety of light, organic solids.
Answer: It is recommended that backwashing should take place at an interval when it is anticipated the filter system will have a 7 psi pressure drop. This 7 psi differential is in addition to the normal operating pressure drop when the filter is clean. If the filter media does not achieve this differential over 24 hours, it is recommended that the filter be backwashed once a day as a minimum.