SRV – Solids Recovery Vessel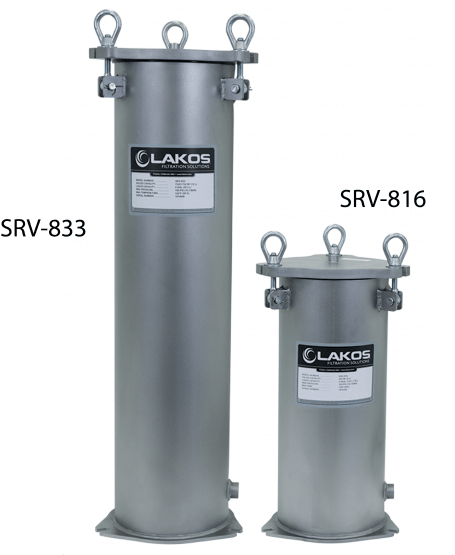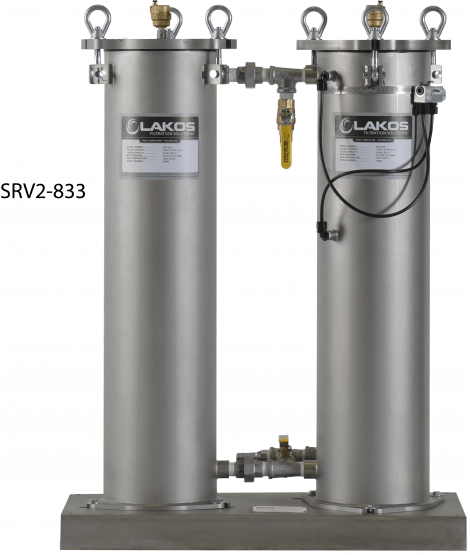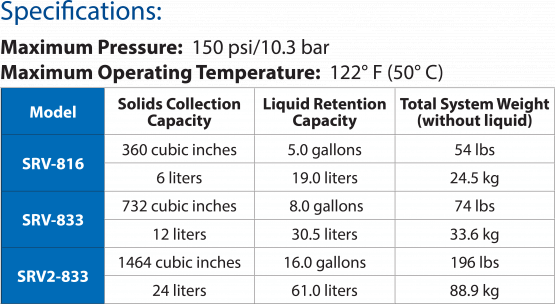 Optional Indicator Package SRI-816:
The optional SRI-816 package applies to SRV-816, SRV-833 and SRV2-833. It helps determine when bag change-out is necessary.
The optional Indicator Package is responsive to increased pressure differential as the vessel accumulates with purged solids.
This assembly identifies when the solids collection bag is full, minimizing routine servicing.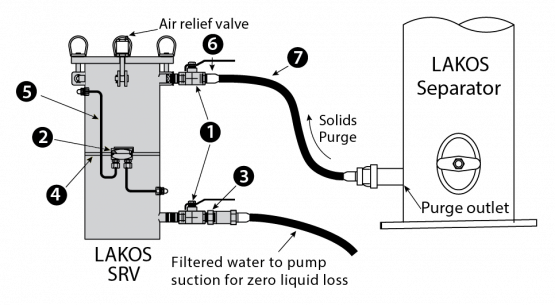 Ball Valves: Two (2) per package; 3/4-inch (female, N.P.T.) manual; bronze body¹, stainless steel ball, sealant seat
Annunciator: One (1) per package; 1/8-inch (female, N.P.T.) parts; "pressure indicator" style². Annunciator is pre-set by LAKOS at a prescribed pressure differential of 1 5 psi (1 bar).
Flow Control Orifice: One (1) per package; 3/4-inch (female,N.P.T.); bronze¹ rated for 10 U.S. gpm (2.3 m³/hr) but other sizes available
Clamp: Stainless steel band with hardware to mount annunciator to body of LAKOS Solids Recovery Vessel
Tubing: To hook up high/low pressure connections on annunciator; 1/4-inch diameter poly tubing for 150 psi (10.3 bar) or less; water use only; 6 feet (1.8m). End connectors also provided
Hose Connections: 3/4-inch, barbed x male thread connections
Hose: Reinforced rubber, 3/4-inch
¹ Also available in stainless steel. Consult LAKOS for any special application requirements.
² Optional dry contact (DEC-100) is available to operate a 12 W light; 125/250 VAC-28 VDC, 2 amp. (Voltage booster relay available to activate buzzer or other indicator device or connect to BMS to trigger low level alarm when bag must be changed).