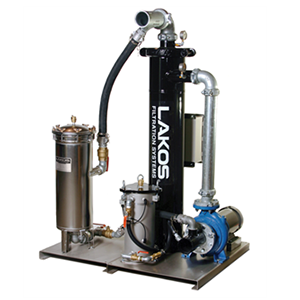 Specifications
SPI or SPX
Models
Downloads
(SPX)
Flow
Cartridge*
Inlet
(grv/flgd)
Outlet
(grooved)
SPI Weight
SPX Weight
Pump
HP
US GPM
m3/hr
 Flow
US GPM
Flow
m3/hr 
Empty
lbs.
Empty
kg
Empty
lbs.
Empty
kg
0065-SRV
DWG      PDF
65
15
10
2.3
2″ grv
1-1/2″
650
295
566
257
1.5
0100-SRV
DWG      PDF
100
23
20
4.5
3″ grv
2″
685
310
646
293
2
0145-SRV
DWG      PDF
145
33
30
6.8
3″ grv
2-1/2″
673
305
800
363
3
0200-SRV
DWG      PDF
200
45
30
6.8
3″ grv
3″
726
329
833
378
5
0280-SRV
DWG      PDF
280
64
50
11.4
4″ grv
4″
813
369
987
448
5
0400-SRV
DWG      PDF
400
91
50
11.4
6″ flgd
4″
1191
540
1293
587
7.5
0525-SRV
DWG      PDF
525
119
90
20.4
6″ flgd
4″
1446
656
1533
695
15
0825-SRV
DWG      PDF
825
187
90
20.4
8″ flgd
6″
1926
874
1990
903
20
1100-SRV
DWG      PDF
1100
250
90
20.4
8″ flgd
6″
1933
877
1996
905
20
* Cartridge filters are available in 0.35, 1, 5 and 10 micron sizes.
All TowerCleanPLUS systems are rated for 150 psi (10.3 bar) maximum pressure.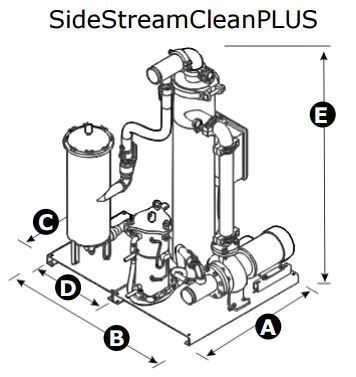 Dimensions
 SPI or SPX
Models

Dim A
Dim B
Dim C
Dim D
 Dim E – SPI
Dim E – SPX
inches
mm
inches
mm
inches
mm
inches
mm
inches
mm
inches
mm
0065-SRV
39-3/4″
1010
48″
1219
24″
610
24″
610

47-15/16″

1218

50

1271

0100-SRV
39-3/4″
1010
48″
1219
24″
610
24″
610

 51-15/16″

1319

54 1/2

1384

0145-SRV
39-3/4″
1010
52″
1321
24″
610
24″
610

 53-1/2″

1359

55 3/8

1407

0200-SRV
39-3/4″
1010
52″
1321
24″
610
24″
610

 56-1/2″

1435

57 3/8

1457

0280-SRV
39-3/4″
1010
52″
1321
28″
711
24″
610

 69-1/4″

1759

 74 1/16

1891

0400-SRV
48″
1219
54″
1372
28″
711
24″
610

 77-11/16″

1948

76 11/16

1948

*0525-SRV
48″
1219
54″
1372
39-3/4″
1010
24″
610

 77-11/16″

1948

76 11/16

1948

*0825-SRV
60″
1524
60″
1524
39-3/4″
1010
24″
610

 93-5/8″

2378

93 5/8

2378

*1100-SRV
60″
1524
60″
1524
39-3/4″
1010
24″
610

 93-5/8″

2378

93 5/8

2378
* These are dual cartridge filters.
System Adders:
460V 60Hz (3500 RPM, 208/230V – 60 Hz (PE Motor), 380/415V (50 Hz), 575V (60 Hz), Premium Efficiency (60 Hz Motor), STRAINER (Field Installed)
Inlet/Outlet Valve Kit:
TCV Valve Kit
Pump Repair Kit:
208/230/460V
SRV System Adders:
SRI, DEC, Replacement Bags
ASME
Internal 3M Scotchkote Coating
Stainless Steel Material
Download Brochure
LS-718 SideStreamClean Plus

LS-580 HVAC Solutions Brochure
Download Manual
LS-591 TC-TB Install Guide

TPX-TPI SPX-SPI Plus System IOM
Download Sample Spec
LS-717 Side Stream Clean PLUS Spec Sheet
Frequently Asked Questions
Answer: As a rule of thumb, LAKOS uses a sizing factor of 1 GPM per square foot of basin area to determine the required size of a Tower Clean (TC) system. Using this factor, multiply the square footage of the cooling tower basin (L x W) by 1 GPM / sq. ft. This gives the basic flow rate for sizing the TC system. Tower Clean literature LS-710 can also be used as a reference for more information and equipment selections.
For industrial applications or very heavy solids loadings, consult LAKOS for recommended basin sweeping flow rates.
Answer: LAKOS factory-built purge controllers (ABV, ABV2, AKE, APP, AFS, EFS) do not have factory-set timings. The required purge frequency and durations vary depending on flow rates, solids concentrations, type of solids, etc. The controller time settings must be set at installation and LAKOS literature LS-608 can be used to help establish purge duration and frequency based on the application.
Answer: To determine the necessary purge frequency, purge often at first and calculate the proper rate based on the expected volume of separated solids. Purge duration should be long enough to evacuate the purge chamber AND clear the entire length of the purge piping of all solids. This is usually indicated by a change in the color of the purged liquid from dark to light. The time between purges should never exceed the time it takes to fill 1/3 of the collection chamber volume, based on the expected solids load and the separator's purge collection volume, as indicated in the separator's literature. Refer to LS-608 for additional information on calculating purge frequency and duration.
Answer: While there are many LAKOS Separators still in service after 15-25 years, there are many variables to the longevity of a LAKOS Separator. It can generally be expected to last as long as any other materials of similar construction in that system. Environment, fluid chemical make-up, flow, the material of construction, type of solids, and maintenance purging are all important factors to the life of a separator. It is important to consider all these factors when purchasing a separator. Providing LAKOS with details about your application will ensure your separator meets or exceeds the life expected through your purchase. Consult your LAKOS factory representative to obtain the life expectancy in your specific application.
Answer: As a standard, most separators are available in mild carbon steel and 304L/316L-series stainless steels. Specially designed separators can also be constructed in most weldable metals, including, but not limited to: super duplex stainless steels, chrome-moly, titanium, Hastelloy, nickel alloys, and cupronickel. In special cases, separators can also be fabricated in plastic or fiberglass. For materials other than carbon and stainless steel, consult with LAKOS on the availability of your specific material requirements.
Answer: Standard maximum temperature rating for operating most LAKOS Separators is 180°F. The exceptions are SMP Separators, which have a maximum temperature of 120°F. LAKOS can easily accommodate higher temperatures with custom separators.
Answer: Standard maximum pressure rating for most LAKOS Separators is 150 psi. The exceptions are the SMP Separators, which have a maximum pressure rating of 100 psi. Contact the factory for higher pressures; LAKOS can accommodate pressures up to 3000 psi through custom separators.
Answer: Yes, we can manufacture a separator with a Canadian Registration Number (CRN). We must know the Province or Territory the vessel is to be located so we can contact the registration controlling agency within that Province or Territory to determine the cost and lead time.